It's all about being popular these days. After a while of having a web site you probably start wondering if anybody is actually interested in it. You can employ Google Analytics to get quite extensive statistics, you can use FeedBurner to track the popularity of you RSS channel, you can check the current page rank of your website. There are plenty of ways of getting some statistics…
Apart from that you can also evaluate the value of your website. It's not like you feel it's time to sell it, but why not think that in the age of global crisis you have a back up so that you still have money to buy the food

Stimator seems to be a nice tool there. Let me cite its authors:
Stimator is a real-time website value estimator. The engine deliveries the most accurate economical value that a website could worth by collecting important data from different sources. The results are indexed to database references and to the financial market in order to re-produce, as real as possible, how much investors are prepared to invest. Stimator is in beta stage as we keep improving this project.
So how much is this blog worth according to Stimator?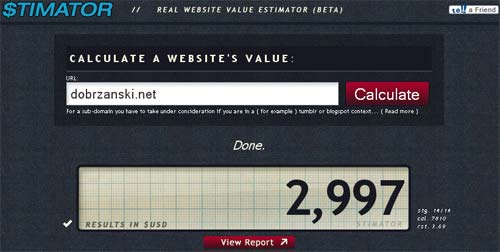 Almost 3 grand? Not too bad

Below there's a report that details the factors used in the calculations: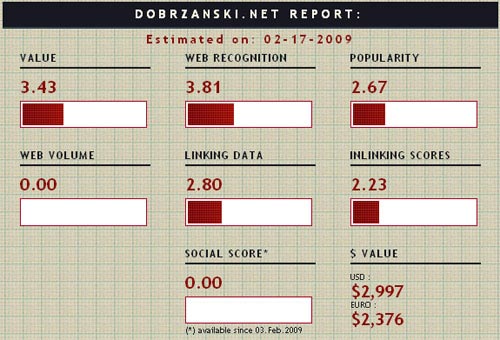 Stimator report for dobrzanski.net
Ok that was on February 17th, 2009. Maybe the value for today is greater?
$2,997
Check yours?
So anyone interested in buying dobrzanski.net

?