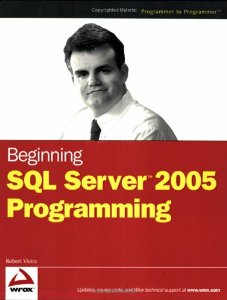 After a while (busy days…) I've got a new book: Beginning SQL Server 2005 Programming by Robert Vieira.
I'm not considering myslef a SQL Server expert but to be honest I was afraid of this beginning word in the title. Yet I've been using SQL Server for a couple of years (apart from Java, C#, etc. – so not full time SQL developing). Also I attended a few SQL related courses when I was at the university. So I should have quite solid theoretical and pratctical background. However, as I was not working with SQL Server full time I decided to give that book a bash. You can always stop reading if you don't like the book

That was really good choice! I'm still in the middle of the book but I've refreshed some basics on normalization, SQL Server storage, learned a few tips and tricks, possible approached, and of course learned a lot of things I've either forgot or never knew. I will probably forget some of what I've learnt but it will always be possible to get that book from the shelf and read about such an aspect.
Highly recommended!